The Beau Nuage Bundles
Choose your rainy bundle : Discovery Bundle, the Family Bundle, or the Couple Bundle. And pick the colours you want to have it personalised!
Couple Bundle (with an additional 5% OFF)
Couple Bundle L'Original
Regular price
$38.36
-5%
Price
$36.44
 Order
Couple Bundle L'Automatique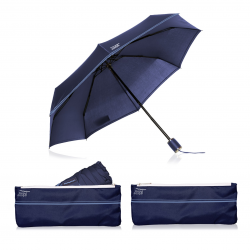 Regular price
$68.39
-5%
Price
$64.97
Online only
Reduced price
Pack
 Order
Couple Bundle Le Mini
Regular price
$40.77
-5%
Price
$38.73
 Order
Family Bundle (with an additional 10% OFF)
Family Bundle L'Original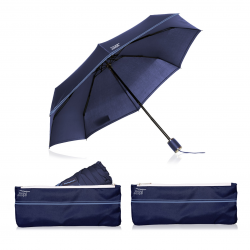 Regular price
$76.72
-10%
Price
$69.04
 Order
Family Bundle Le Mini
Regular price
$81.54
-10%
Price
$73.38
 Order
Discovery Bundle (with an additional 7% OFF)
Discovery Bundle
Regular price
$73.76
-7%
Price
$68.59
 Order
The questions everyone's asking
1) Is a Beau Nuage umbrella always sold with its drying cover?
Yes it is! A Beau Nuage umbrella is inseperable from its cover and the other way around. Even Le Gentleman has its own absorbent cover that enables you to carry it over the shoulder!
If you ever spot a Beau Nuage without its cover, contact us quickly…
2) How does the Beau Nuage drying cover work ?
The Beau Nuage drying cover absorbs the raindrops and hold them with a patented three-layers technology.
The inner "absorption" layer is composed of a microfiber fabric able to retain up to 200 times its weight in water.
There is an intermediate layer under the inner one. This layer is made of a water repellent fabric and has a dual function : not only does it enable the outer layer to stay dry by preventing the rain drops from coming through, it also attracts the water towards the microfiber layer in order to ventilate it and dry it effectively.
Lastly, the outer layer is a thick umbrella fabric (200threads/in2) with a Teflon® covering which makes it waterproof. It thus prevents raindrops from leaking.
In short, you can put your Beau Nuage umbrella into a bag or a pocket and keep it dry!
3) After using them, should I dry my Beau Nuage umbrella and cover?
As we said previously, the Beau Nuage cover is able to retain up to 200 times its weight in water. There is thus no need to dry it systematically. It's been conceived to allow you to put your mind at ease during rainy days!
After heavy rain though, we advise you to let your Beau Nuage cover and umbrella dry at home, like any other accessory subjected to rain.
4) Are the Beau Nuage umbrellas durable?
The Beau Nuage umbrellas are built with innovating materials, both flexible and robust. These materials make our umbrellas more resistant and enjoyable than any others.
The shaft is made of aluminium and steel so that it is not too heavy (only steel) nor too fragile (only aluminium).
Likewise, the ribs of our umbrellas are made of flexible materials, like fiberglass, but very strong, stainless ones for the junction between the ribs, where we favoured nickel for its strength and aesthtic.
Our canopies have 200 threads/in2 and are thicker than average (180 threads/in2) and the ribs and canopies are both handmade.
Last but not least, our unique Beau Nuage cover, unique, allows you to know where your umbrella is at all times since you can always keep it in your bag ! In that way, the Beau Nuage umbrellas last much longer than others!
5) Do the Beau Nuage umbrellas have a manual or an automatic opening?
It depends! Le Mini and L'Original have a manual opening whereas L'Automatique and Le Gentleman have an automatic opening. Better still, the aptly named L'Automatique also has an automatic closing.
The automation is a wonderful feature that allows you to open and close your umbrella iwith the most ease.
But to be of good quality, like the Beau Nuage Automatique, this technology requires a stiff spring. It is thus primarily suitable for the robust and larger umbrellas, like Le Gentleman.
That's why we've favoured excellent quality manual openings for Le Mini and L'Original so that these two umbrellas are compact and easy to carry.
6) I can't decide! How can I choose between le Mini, l'Original, l'Automatique, and Le Gentleman?
We understand your struggle: choosing between three high-quality umbrellas is an impossible decision!
If you are looking above all for a small, lightweight and convenient umbrella that is easy to carry, then we advise you choose Le Mini.
L'Original is slightly heavier and bigger than Le Mini, but also stronger and more stable. Its eight ribs ensure you have a better hold and its ergonomic handle made of Gel is very comfortable.
L'Automatique is broader and more robust than the two others. It is a little heftier but its automatic opening and closing can be very practical and efficient if you are often on the move.
Last but not least, Le Gentleman is a whole new world of umbrellas! If comfort and elegance are prioritised over smaller umbrella's practicality in your opinon, then your choice should be easy!
7) Can I get a discount if I order several Beau Nuage umbrellas?
Because we like you very much and we wish you a lot of rain, we've planned amazing discounts for you, if you wish to order more than one Beau Nuage.
For Christmas, our rainy reductions are available through our Christmas Bundles!
Usually, by ordering two Beau Nuage, you'll get 5% discount.
Three Beau Nuage, 10% discount.
Four Beau Nuage, 20% discount.
These discounts will automatically appear in your basket.
That's perfect for a couple or even a whole cloudy family! No more excuses for not leaving the house happily on rainy days…
8) How can I maintain my Beau Nuage umbrella and cover?
After heavy rain, we advise you to let your Beau Nuage cover and umbrella dry at home, like any other accessory subjected to rain. It will prevent any corrosion of your umbrella.
If your drying cover is dirty, you can wash it, either by hand or in the washing machine, in delicate mode and at 30°C, without softener.
Lastly, if your umbrella is wrinkled, you can iron it to make it look as good as new! To do so, you only need to open it and gently apply the steam for the iron on each parts of the canopy, one by one.
9) What diameter is a Beau Nuage umbrella's canopy cover?
The diameter of coverage of Le Mini and L'Original are almost identical: 90cm. That is more than enough space for covering one person and also a good size for a couple.
If you are looking for more coverage, then L'Automatique is more suitable with a 92cm coverage. But Le Gentleman experience is once again comfier and more luxurious: its wider ribs cover more than 1m of diameter.
10) How is the delivery made and how long does it take? Do you deliver in every country?
Once your order confirmed, we'll prepare your Beau Nuage with love. We want to pamper them a bit before they leave…
Then, our transportation service (UK Post) will bring them to you quickly, knowing that time is running out until the next rain! Most of the deliveries take 2 to 3 working days, 5 working days maximum in France and in Europe.
Even though they're proud to be French, our Beau Nuage have volunteered to protect every person in the world against rain. We thus deliver to every part of the world*!
*We do not ensure delivery in the whole universe though, as rain does not exist beyond our atmosphere. We would like to apologise for any inconvenience caused.
11) There have been rumors that every Beau Nuage umbrella has a name. Could it be true?
Yes indeed, every Beau Nuage has its own name, as it is above all a daily life companion! The name does not depend on its colour or its type: it is randomly generated from our gigantic name database!
When you'll receive your Beau Nuage, you'll be able to discover its name at the back of the tag. Try to remember it before throwing away the tag. It's important for your umbrella!
12) Why do you always wish us rain?
Simply because at Beau Nuage, we love rain ! Our leitmotiv is to make you love rain too and to make your rainy days more colorful and smiling…
13) What if I have other questions?
Our team is here to answer your questions every working day, from 8am to 5pm, and cheerfully!
By phone : +33 1 55 42 73 91 (price of an international call)
By email : contact@beau-nuage.com

NB. You can also call us to talk about the weather, we'd love that.