As we, at Beau Nuage, are all about finding ways to make people love the rain, we thought we would brighten your cloudy day by listing a few unexpected umbrella inventions, which will make you feel a lot less silly when you're standing under your umbrella in the pouring rain!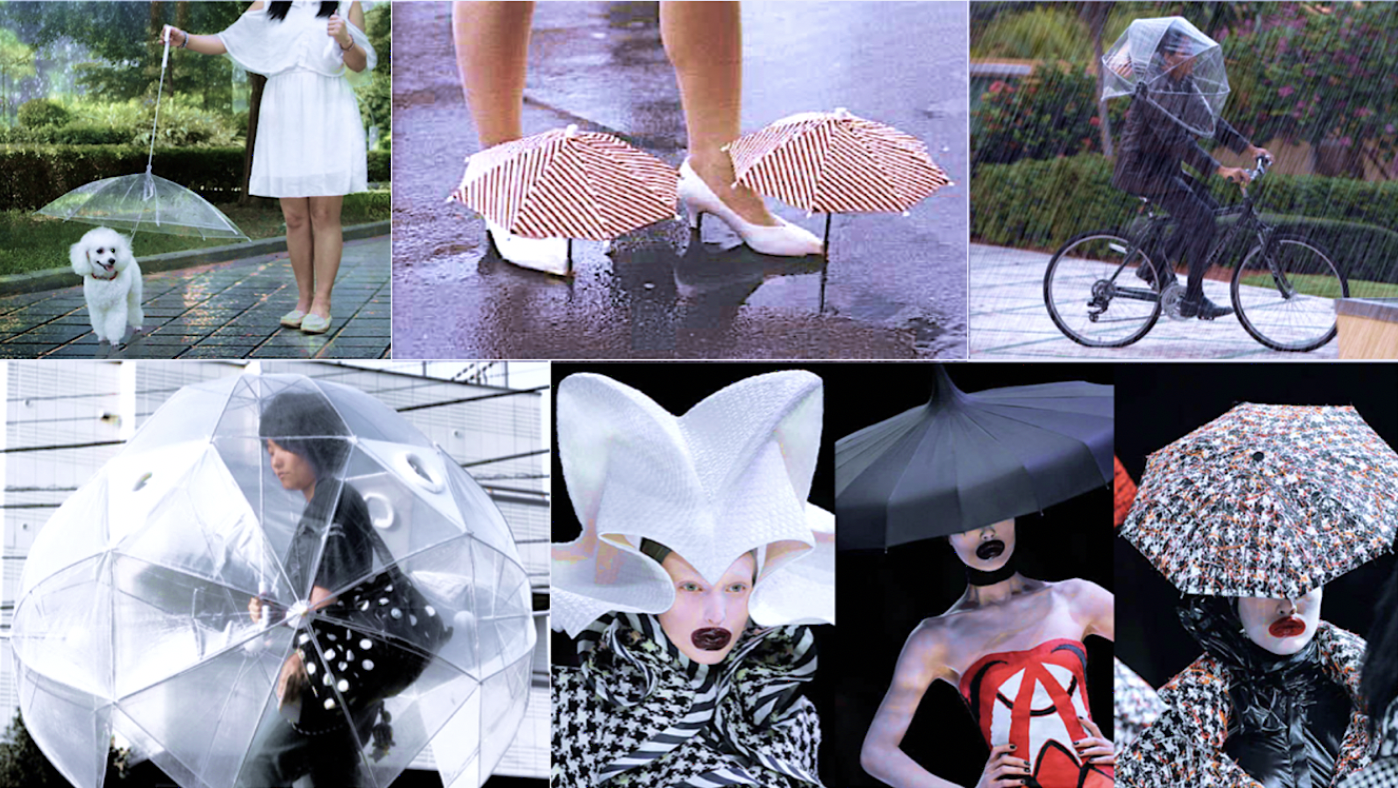 If you have read our blog post about the history of umbrellas, (Link it here-if it is posted before this one) then you know that umbrellas have been around for almost two thousand years, with a range of purposes, styles and methods of production. 'The New Yorker' journalist, Susan Orlean, once said: "it's difficult to come up with an umbrella idea that hasn't already been done", this article will prove her right and wrong at the same time, it will show you that umbrellas are forever changing, and that when you think people have thought of every ridiculous thing to convert them into, they are not done, they are never out of new ideas.
Pointless or not? That's for you to decide…
1. The most common invention definitely seems to be backpack umbrellas. There are in fact 11 patents in the world for hands-free umbrellas, some shown in the diagram below: But if you're not having to hold the umbrella, it might as well have maximum coverage and the extreme weight that comes with it, as it won't be hurting your wrist, right? The possibilities are endless, imagine all the texting you can do!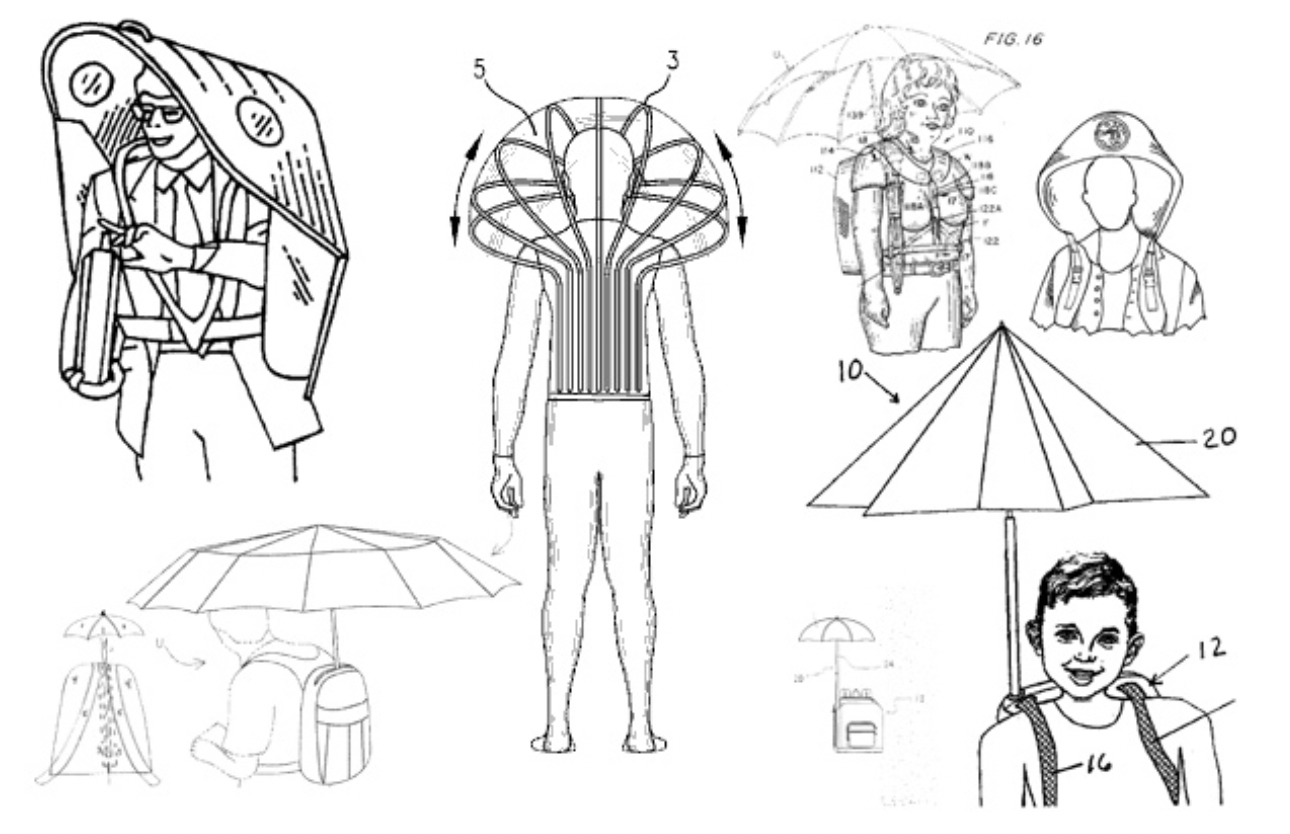 2. If you're looking for full coverage, you could opt for a 'Full-body' umbrella, it will definitely have you covered from all angles: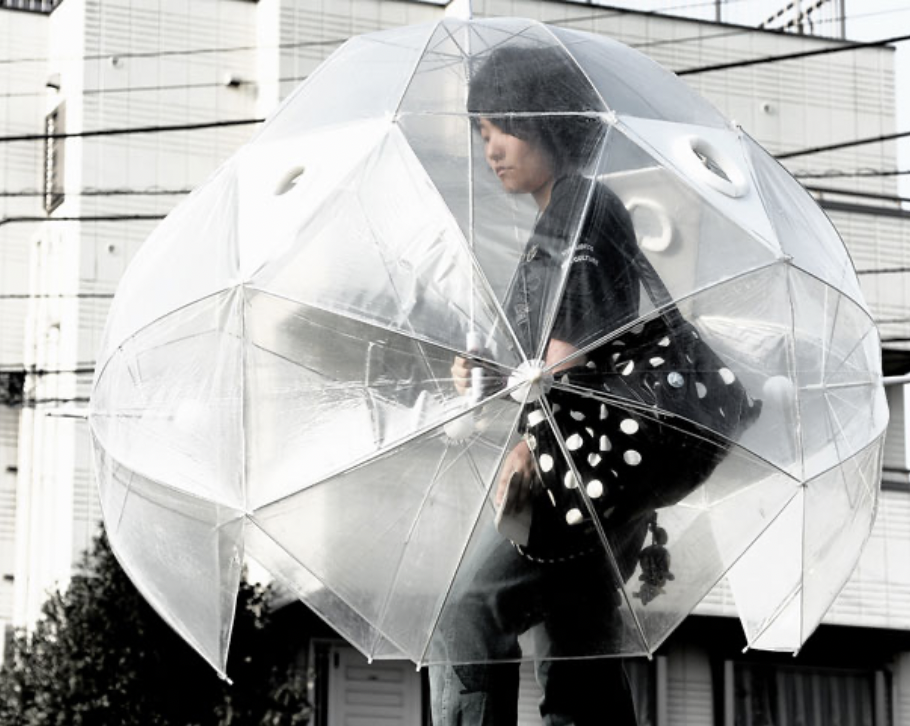 3. Or, if you're cycling, you might be interested in a wind-shield style umbrella: It might even protect you if you fall!

4. The future of umbrellas
We all know the rain has a power to bring people's spirits down, which is why Beau Nuage users are always so positive on rainy days- Beau Nuage umbrellas make people love the rain. However, people who don't have Beau Nuage umbrellas might feel low, less motivated and maybe even anti-social on these days. If that is you, then you only have to wait till 2046 for the release of the "Compact Parisian Auto" by designer Daisuke Iguchi. This electric, self-driving car is aimed at tourists who want to discover Paris independently, and it is perfect for rainy days when you want to avoid the crowded public transport.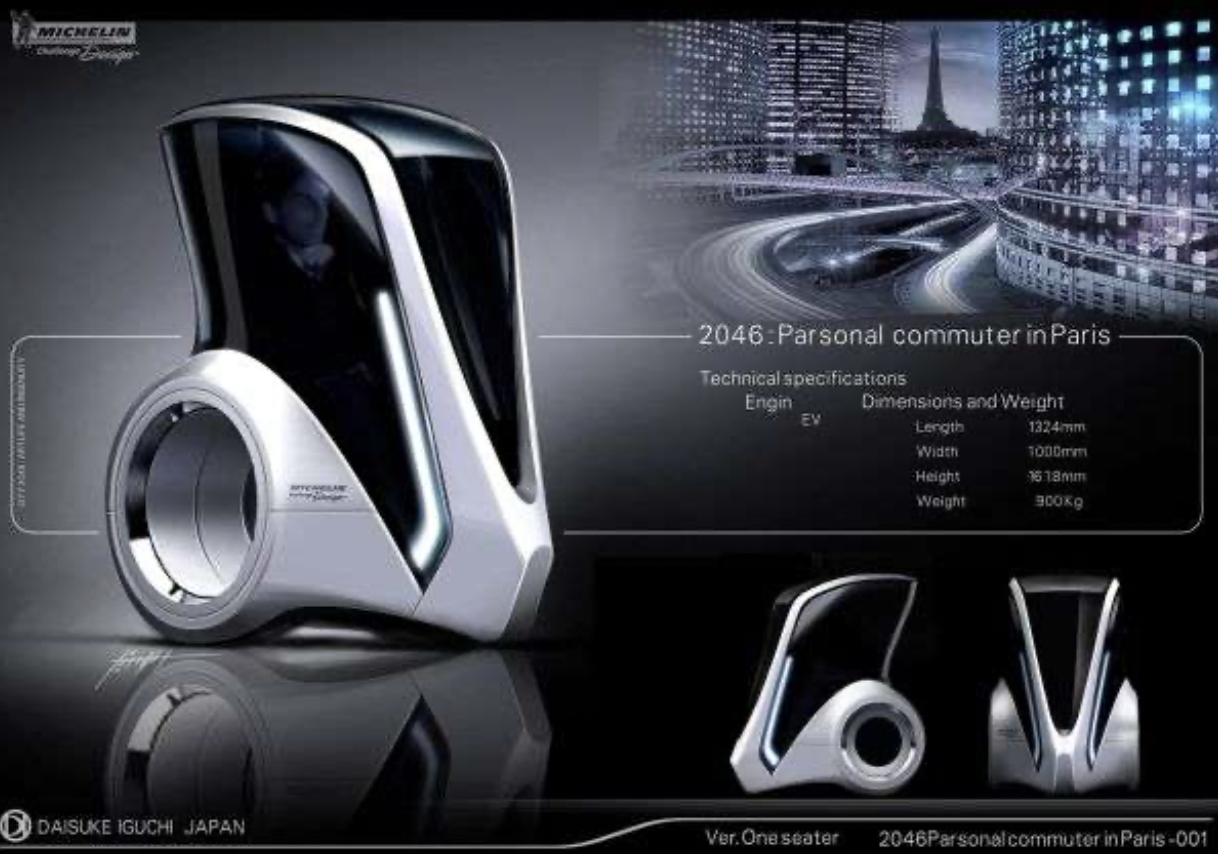 While you wait for the release of this mini car in 2046, you could invest instead in a Beau Nuage, which does practically the same job, but needs a lot less storage space, as it even fits in your bag with its handy absorbent cover! As you can see, your other alternatives aren't that charming!
5. For example, if you want to keep your hair from getting wet, but also want to show off your outfit, this Chinese innovation might work: It floats on your neck almost like an alien, but atleast you don't need to adapt anything "neck-down"!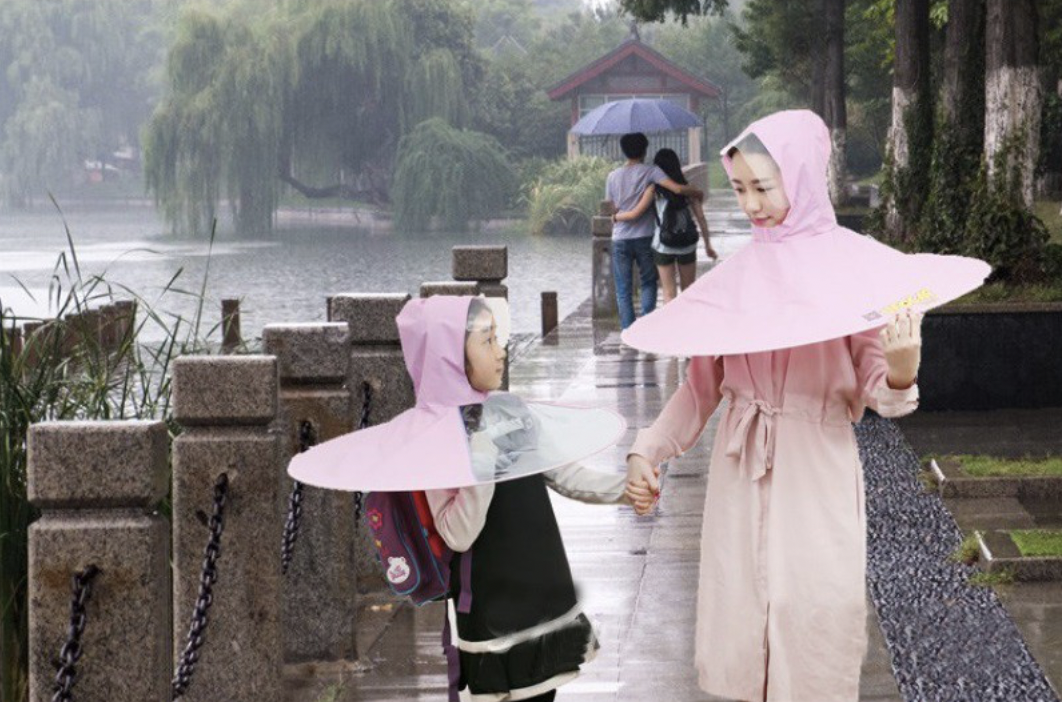 6. Or, you might want to go 'all-out' with the Alexander McQueen "Hands-Free Rain Gear"collection, so your "umbrella" is your outfit! Though it might be a little more pricey than buying an umbrella, you will definitely catch the attention of anyone passing you on the street.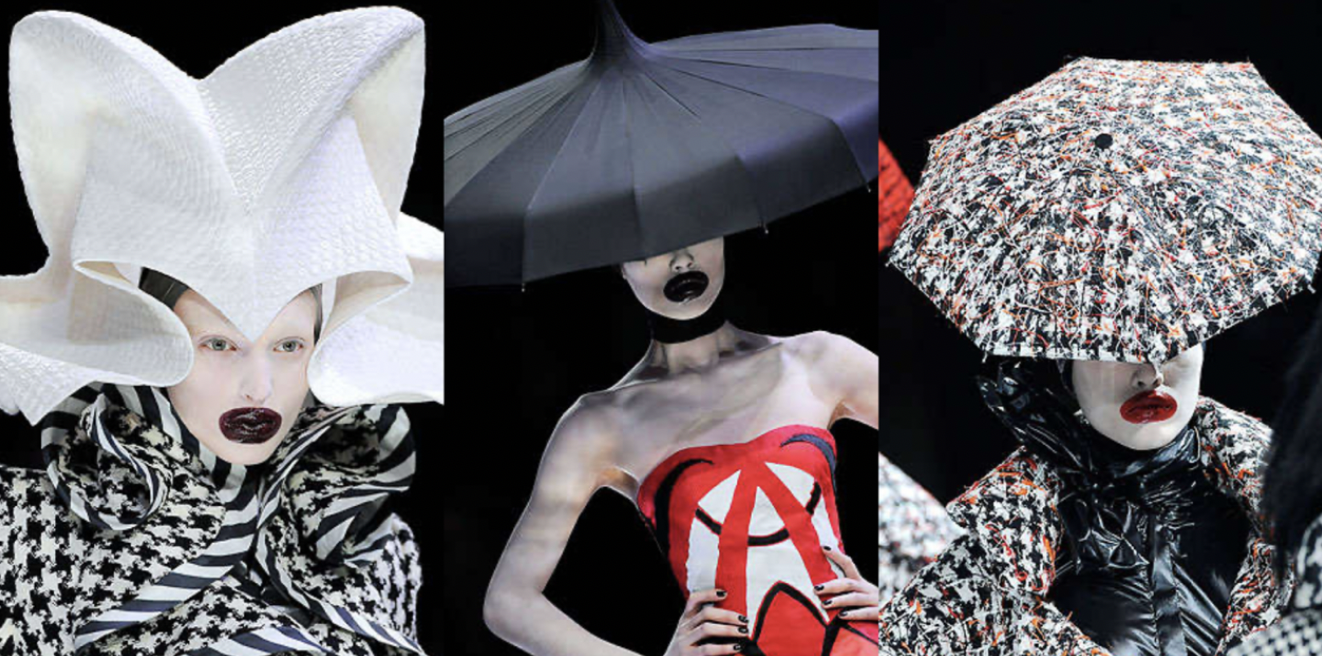 7. By now, innovators have also noticed that your hair is not the only thing you want to keep dry, which is why they invented umbrellas for your shoes! Now, you can wear suede heels in rainy weather too: You might however notice a style flaw, as when it stops raining, the mini umbrella stays on the shoe, dripping onto your toes.

8. And who's to say that umbrellas are only for people? Innovators definitely did not forget about 'man's best friend', here is the Pet Umbrella: Perfect solution for people who love their dog unconditionally and therefore take them on walks even in the rain, as there's nothing worse than the "wet dog smell".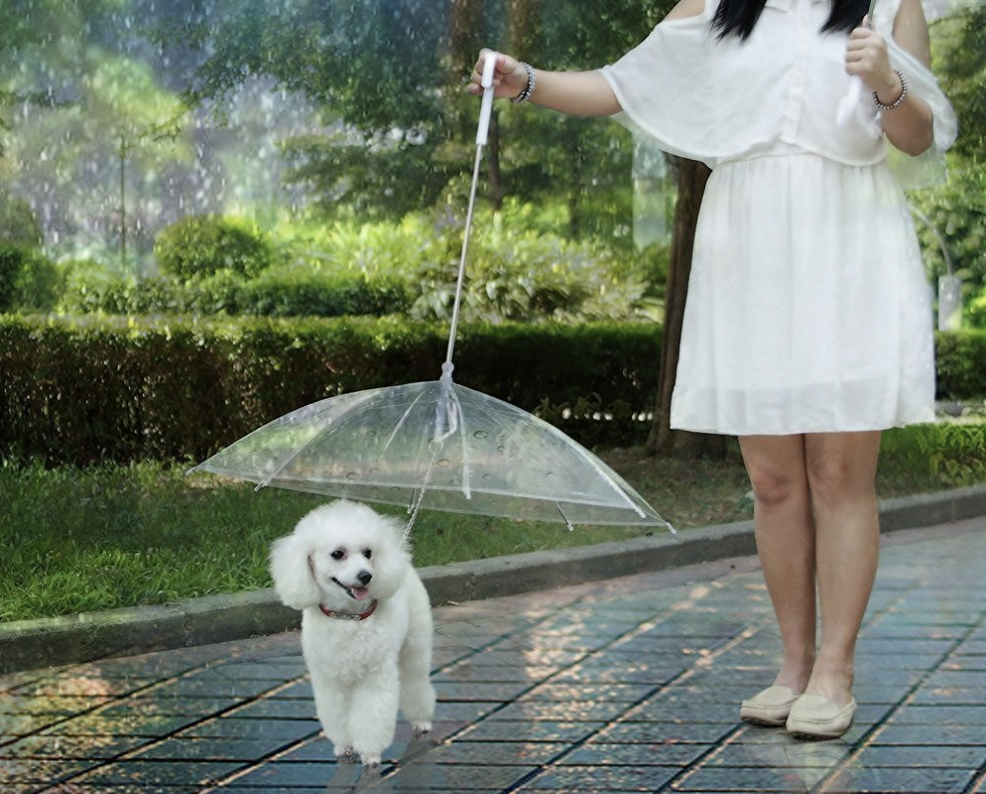 9. These innovators also thought of man's other best friend: coffee. The coffee-holder umbrella was without a doubt designed for business men and women, in a rush to the office, on those early, rainy mornings: These types of umbrellas come with drink holders that pivot in the direction you hold your umbrella in, so that you never spill your drink… genius!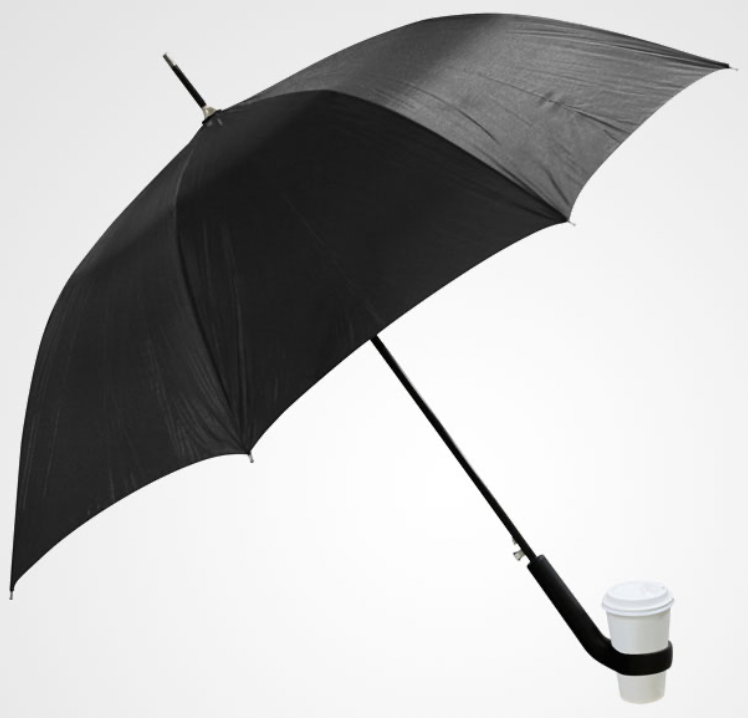 10. It goes without saying, that the best invention was left for last, which is indeed our invention! When Susan Orlean said: "it's difficult to come up with an umbrella idea that hasn't already been done", she was definitely not expecting this invention: The Beau Nuage umbrella, which comes with its own absorbent cover. Whilst reading this article, one big question must have been on your mind, and that is: "these inventions are great, but, after using the umbrellas, where and how do you store them?!", and Beau Nuage has the perfect solution: Thanks to the patented triple layer technology absorbent cover, after using your umbrella to combat the rain, you simply need to slide the umbrella back into its case, and let it dry, without having to do anything else! What's more is there are endless choices! In fact, there has just been a restock of the foldable mini umbrella, original umbrella, and the automatic umbrella, all of which come with this magic cover, so go check it out!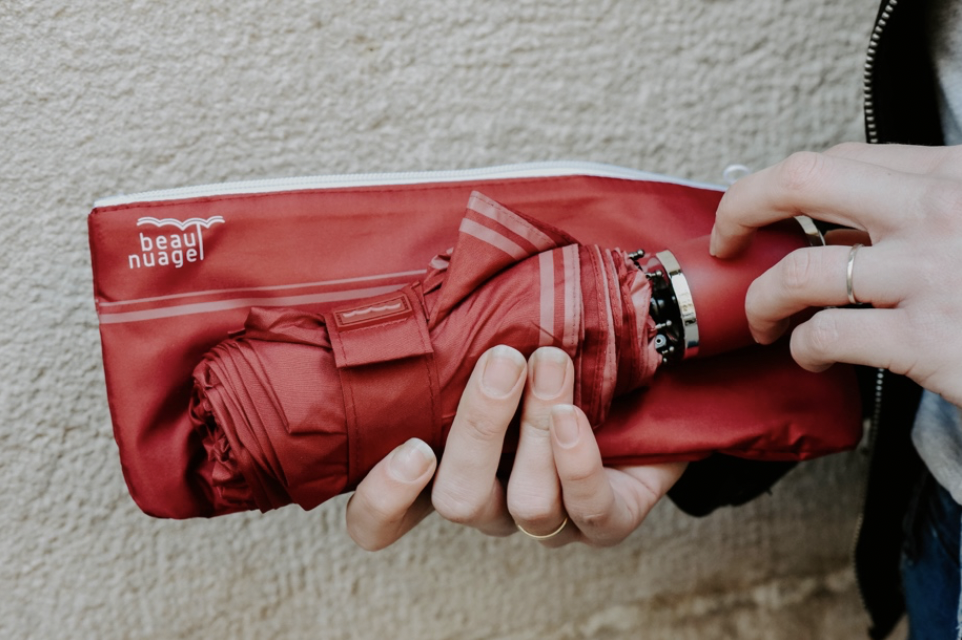 Kincso